JOELETTES AROUND GRUYERE
27 August @ 08:00

-

17:00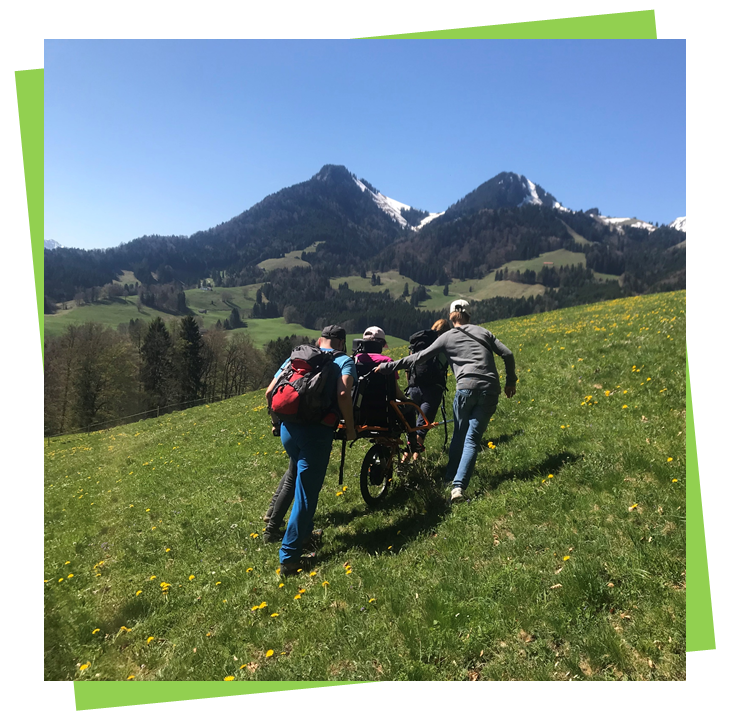 In collaboration with the Parc Naturel Régional Gruyère Pays d'En Haut and with the support of the association Différences Solidaires, GSAB Aventures offers you a Joëlette hike around the city of Gruyère.
The picturesque little town of Gruyères seems to be straight out of the Middle Ages. The fortified castle and, at its feet, the charming little the charming little town preserved from the ravages of time, offer a real journey into history. The pedestrianised town, its cobblestones and its fountain invite you to take a gentle stroll. The medieval town gave its name to the region of La Gruyère and to its cheese, the Gruyère PDO.
Every year, almost 1.2 million visitors discover Gruyères, the tourist gateway to the region whose tasty cheese Le Gruyère PDO is its world-famous ambassador. world-famous ambassador.
Our hike will take us through the surrounding countryside and end in the heart of the town of Gruyères. to the heart of the city.
People with reduced mobility are welcome (3 maximum). They will have to do the hike comfortably installed in a Joëlette; the modern day sedan chair. We will need the solidarity of three volunteers to drive this electrically assisted walking chair.
Registration can be done on the PNR website www.gruyerepaysdenhaut.ch