JOELETTES AROUND MONTSALVENS LAKE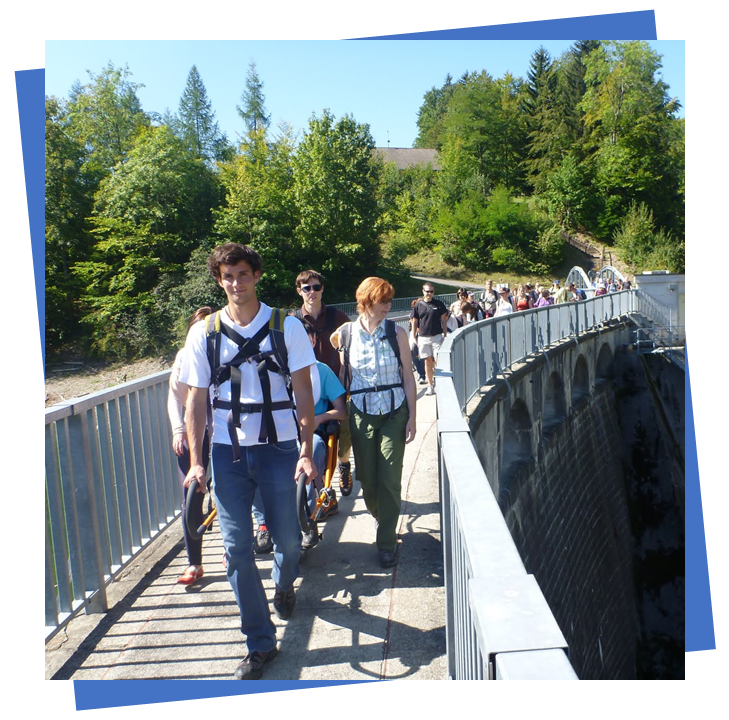 In collaboration with the Parc Naturel Régional Gruyère Pays d'En Haut and with the support of the association Différences Solidaires, GSAB Aventures offers you a Joëlette hike around the lake of Montsalvens.
The lake of Montsalvens is a dam lake in Switzerland, on the Jogne river. It is located on the territory of the municipality of Broc, in the canton of Fribourg, on the road that goes up to the Jaun pass, between the villages of Broc and Charmey. The tour of the lake is a magnificent hike for nature lovers. The route is shady and often wet. It offers a refreshing option in the summer for those who like to walk with a joëlette. The difficulty of the route is not to be underestimated, especially when the terrain is wet. The route is enhanced by spectacular passages over the historic Montsalvens dam and the suspension bridge.
People with reduced mobility are welcome (3 maximum). They will have to do the hike comfortably installed in a Joëlette; the modern day sedan chair. We will need three volunteers to drive this electrically assisted walking chair.
Registration can be done on the PNR website www.gruyerepaysdenhaut.ch